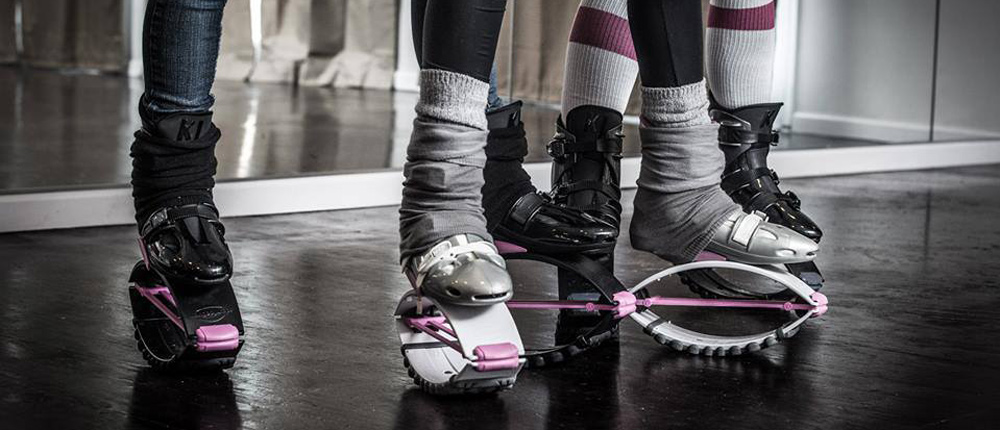 JumpFit W/Toye Cardio Classes
A New Fitness Kraze is Here & Has Everybody Talking!
JumpFit Cardio Classes
A New Fitness Kraze is Here & Has Everybody Talking!
"JumpFits" are low impact rebound boots that were originally designed for joggers for impact protection.
The Impact Protection System reduces impact up to 80% on the knees, legs, and joints. I personally love JumpFit rebound boots because they are different, fun, build endurance and they challenge me outside me comfort zone.
I have worn and taught in them even through my last two pregnancies! Jump into fitness with a non-strenuous exercise element to and get your life with JumpFit!
JumpFit is a fierce, highly motivating, and energetic cardio class specifically designed to challenge the whole body by building muscular strength and cardiorespiratory endurance simultaneously while wearing rebound boots. Each movement is designed to focus on core stability, ensuring a balanced workout. This class is done inside a fitness studio and is 1 hr. long.
YOU MUST PRE-REGISTER FOR THIS CLASS. SPACES ARE LIMITED
Would you like a private JumpFit party? Get any group of people you'd like, find a location and schedule a class. It's that simple. The class will be tailored to you and your groups needs .
PLEASE NOTE: YOU MUST PRE-ARRANGE YOUR PRIVATE PARTY AND CLASSES WILL NOT BE HOSTED WITH LESS THAN 6 PARTICIPANTS.
Private Class Options Include:
JumpFit Cardio

JumpFit Boot Camp

JumpFit 5k Runs

Specialty Fitness Camps

Corporate Fitness Workshops
FAQ
How do they work?
Kangoo Jumps Rebound Shoes offer all the benefits of rebound exercise by using gravitational force combined with a thick elastic band, which returns energy upwards upon the shoe's contact with the ground. They reduce the impact on the joints by 80%, but also increase the amount of effort you have to put in, thus giving your cardiovascular fitness levels a boost.
What are the benefits?
Effective for all ages
Protection of knees and joints/80% reduction
Increase your endurance
Facilitate weight loss
Produce a feeling of euphoria
Safe and fun to use
Are they easy to use?
Surprisingly, Yes! They may look intimidating at first but after a few minutes they are fun and very easy to adapt to and Great Fun! While you are wearing them, your core is constantly engaged.
Can I fall?
No, Kangoo Jumps Rebound Shoes are perfectly safe unless you misuse them. Even kids and 80 year olds wear them. Otherwise, Girl You Are Fine! Relax & Get Out Of That Box You Are In!
What should I wear?
Wear a good supportive sports bra, or two for the heavier chests. You also, would want to wear high, thick socks to prevent rubbing. Most of all, dress in cute workout clothes!
Can I purchase my own boots?
Sure you can!! You can do so through me. It takes about 5 business days to receive them.
Are your boots sanitized?
Yes, why of course! I can't be a dirty Health Coach. I clean & sanitize my boots after each class and wash them weekly.
Can my 10-year old daughter join?
As much as I would love her to, this is a women's fitness class. Participants should be at least 15 years of age unless I agree to do a teen class. My boots are not kid sizes and they won't be able to rebound because they are not heavy enough. However, there are kid sizes available for purchase. I just don't have them as of yet. I want to get the mama's together first, then I'll move on to the kiddos. Note: If your kiddo has his/her own pair they may participate but will have to pay the same price as everyone else.
What are the shoe sizes?
The Rebound shoes come in small, medium, and large. If you are a women wearing sizes 4-7 ½ you wear a small, If you are a woman who wears sizes 8- 9 ½ you would wear a medium, If you are a woman who wears sizes 10-12 you would be a large.